Hytera Digital Walkie-Talkie For Hire
Digital Walkies For Hire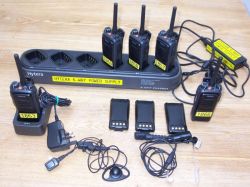 We now have hundreds of Hytera PD705LT digital UHF walkie-talkie radios available for rental.
To go with them, we have 6-slot chargers, single chargers, spare battery packs and earpiece/microphones (D-type earpieces and also "semi-covert" curly tube type earpieces).
These digital radios offer digitally-enhanced improved sound quality.
Ask us if you would prefer to hire our digital radios to our standard analogue walkie-talkies.
CLICK HERE FOR OUR DIGITAL WALKIE-TALKIE RADIO HIRE PRICE LIST - PRINTER-FRIENDLY (PDF)
---