Tesunho Mobile Data Network Long Range Walkie Talkies
HIRE TESUNHO TH288 SIM CARD WALKIE TALKIES FROM ONLY £11 + VAT per week
TESUNHO MOBILE NETWORK Hire Walkie Talkie Radio - Features
Size: 15 cms high (including antenna) x 6 cms wide x 4 cms thick
Weight: 245g
Channels: 1 (hirers can request to have some of their radios set to work in different "groups" if needed).
Battery: Each network walkie-talkie radio comes with a 6000mAh rechargeable Li-Ion battery pack that typically gives 10-20 hours of usage (battery life depends on actual time spent talking). We have spare battery packs available for hire as well for those that need continuous availability of each hired radio.
Chargers: The hired radios come with compact single chargers. We do not have six-slot chargers for these walkie-talkies. Chargers are included in the hire price of the SIM card radios.
At present we have around 40 of these innovative new wide-area walkie-talkie radios for hire. We hope to have more soon.
Range: Unlimited - provided the radios are in an are of mobile phone network reception.
Belt Clip: The radios have a belt-clip with strong spring-loaded fastener to attach the radio to your belt.
Accessory socket: for earpiece / microphone, headset etc (available to hire if needed, but not included in the basic hire cost)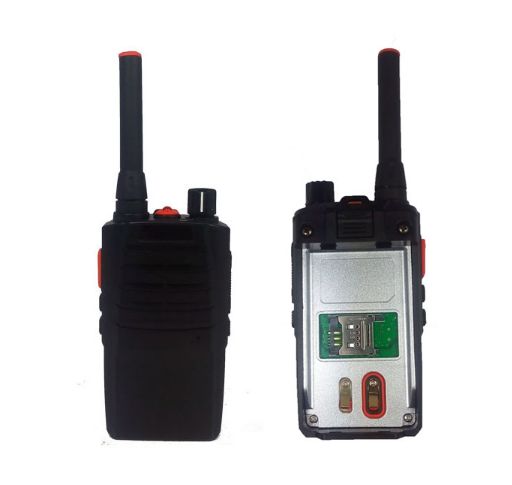 Licencing: Since these SIM-card walkie-talkies use the mobile phone data networks, there is no need for any kind of licence to use them at all.
CLICK ON PRINTER OR HERE TO VIEW PRINTABLE NETWORK WALKIE TALKIE RADIO INFORMATION SHEET AND PRICE LIST
A full range of accessories is available to hire with the UHF walkie-talkies - including earpiece/microphones, speaker/mics, headsets, leather cases with neck straps, spare battery packs etc - click on images below for details.
* price per radio is dependent on quantity of walkie-talkies hired, with cheaper per-radio costs the more you hire.
---