Motorola Gp344 Walkie-Talkies For Hire from £11 per week
HIRE MOTOROLA GP344 COMPACT UHF WALKIE-TALKIES FROM £10 PER WEEK
These small, compact but powerful Motorola GP344 walkie-talkies are always a popular choice for radio hire customers.
Using the UHF band, they have good signal penetration within buildings, making them a ideal for events in pubs, bars, clubs and live music venues, conferences and trade shows etc.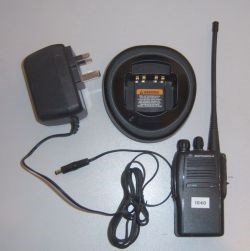 The Motorola GP344 walkie-talkie has 4 watts transmission power - giving the best range available in a UHF walkie-talkie radio, and 16 channels.
It has enough power and range for most events - for a sports stadium, conference centre, and outdoor events, and for use around large office buildings, shopping centres or leisure facilities.
UHF walkie-talkies are generally the best "all round performance".
They are simple to us - just a rotary on/off/volume control and rotary channel selector.
It has 16 channels, and each channel has a CTCSS code preset to screen out interference from other radio users nearby.
The radio weighs only 258g, and measures 100mm x 60mm x 37mm (body) with a thin flexible rubber antenna measuring 170mm.
It has a long-life 1900mAh Lithium-Poly rechargeable battery pack. Spare battery packs can be hired if requested.
There is a socket to attach earpiece/mics which are also available to hire.
The socket is the Motorola M4 connector.
We have vert few of these left for hire now. Customers should consider the newer and better digital Hytera PD705LT instead.
---