WHAT WE DO
WE HIRE PROFESSIONAL WALKIE-TALKIE RADIO EQUIPMENT ANYWHERE IN THE UK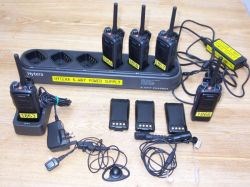 We provide professional-quality walkie-talkie radios, together with a full range of accessories and supporting equipment, for hire, both short-term and long-term.
We have a "hire fleet" of hundreds of walkie-talkies, all of which are industry-standard, full-powered models.
Our radio range includes UHF, VHF,  digital walkie-talkies, and mobile data network walkie-talkies.
Also, we can provide vehicle-mounted radios, base stations and repeaters.
We are based in Kilburn, North West London.
We are able to deliver hired equipment on a next-day basis anywhere in the UK, and if necessary, further afield.
Within the London area, we can usually provide urgent same-day delivery as well. Customers can also collect hired equipment either in person, or by sending their own courier to us.
WHAT ELSE WE HIRE
As well as walkie-talkie radios, accessories, vehicle two-way radiod, we also hire out megaphones, security "wand" metal detectors, bodyworn cameras and PA systems.
KNOWLEDGEABLE ADVICE AND PERSONAL SERVICE
Our staff are knowledgeable about our range of radios, and can advise you about what equipment you might require, and about what will and will not be possible.
We can explain to you how our various two-way radios work, and what you can expect from them, and what accessories you are likely to need.
If you are planning an event and want to test out a set of any of our hire walkie-talkies on the site to make sure that they will do what you require, we can lend you some to test out, usually for free (a security deposit may be payable).
Our web site also has a lot of practical information about how radios work, radio licencing issues and more.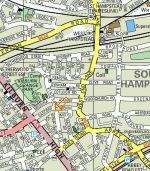 Prospective customers are welcome to come to our office to discuss their needs, or to check out our radio equipment for hire (and also for sale).
We have plenty of radios and all the accessories to show to visitors. If you are planning a big event, and want to know for sure that our radios will do what you need, you can usually borrow a couple to test them out prior to your event.
---