Vehicle Two Way Radios To Rent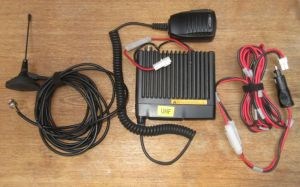 We have for hire powerful yet simple-to-use vehicle radios. They will communicate with our hire walkie-talkie radios.
The vehicle mobile radios for hire come with a power lead that fits into the car's "cigarette lighter" 12 volt power socket, and a magnetic-mount antenna that simply sticks to the metal roof or other part of the car or van.
Size: 15 cms wide x 13 cms deep x 4 cms thick
Weight: 800g (this is just for the radio)
These radios have a 25 watt power output.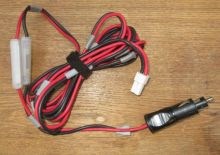 This compares with most walkie-talkies which have only 4 watts. 
The higher power output means a significantly longer range. This is important when communicating between moving vehicles, where it is possible to get "out of range" of a walkie-talkie very quickly.
Our vehicle radios can be used in a group with a mixture of walkie-talkie radios, other vehicle radios and "base station" radios. This makes them suitable for use around an event site, for security patrol vehicles etc.
We have both UHF and VHF car radios for hire. We also have digital vehicle radios to work with our Hytera digital walkie-talkie radios.
We often hire out our vehicle radios to car clubs and organisations, and just to groups of friends who are organising a group motoring trip and travelling in convoy.
The radios help to keep the group's vehicles in contact with each other, and prevent members getting separated or lost, especially if they had to stop unexpectedly, or if someone misses a turn etc.
VIEW, DOWNLOAD AND PRINT PDF INFORMATION SHEET ON OUR VEHICLE RADIOS FOR HIRE
---