Hire Metal Detector Security Wands
HIRE HANDHELD METAL DETECTOR WAND SCANNERS
We have plenty of of hand-held metal detector scanner wands for hire.
These easy-to-use handheld scanners detect metal objects inside people's pockets, clothing and bags etc.
Check people for concealed weapons without the need for an intrusive "contact search", which many people find unpleasant.
The security wands can be used at airports, schools, nightclubs, bars, retail outlets, festivals, warehouses, conferences, special event security and for all types of general security screening.
Often, just the presence of these scanner wands deters people from attempting to enter the secure area whilst concealing a metal weapon.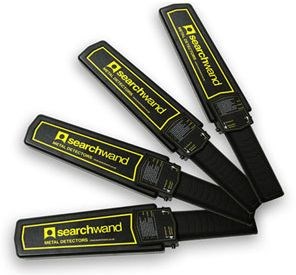 simple to use hand-held wand
detects metal objects in clothing, pockets, wallets, purses etc
42cms long
weighs only 500 grammes
audible or "silent vibrate" alert modes
rechargeable battery provided
battery chargers provided if necessary
We have around 150 of these easy-to-use, battery powered security "search wand" metal detectors available for hire for only £5 + VAT per week  (or £8 for two weeks, £12 for three weeks, or £15 for a month).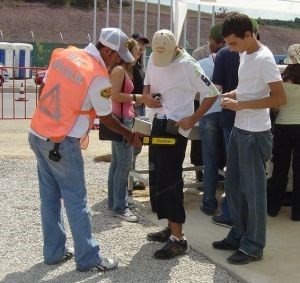 You can collect the scanners from our office in West Hampstead, London NW6 (4 stops up from Baker Street on the Jubilee Line) or we can send them to you by courier.
Delivery charge is usually £12 + VAT, although it may be more for large numbers.
We normally want payment before the hired equipment is sent out.
We take Visa, Mastercard and American Express cards, as well as cheques, BACS (bank payment) and Paypal.
Call us on 020 7328 9792 now to discuss your hire requirements for security metal detector wands.
---