Walkie Talkie Hire For Bonfire Night Firework Displays
WALKIE TALKIES FOR BONFIRE NIGHT EVENTS & FIREWORK DISPLAYS

We have hired our professional walkie-talkies to the organisers of many public firework display and Guy Fawkes night events.
Hire Radios for Event Safety
At a firework display and bonfire event, safety is paramount, and walkie-talkie radios enable the organisers and stewards to stay in contact to safely manage their event.
Walkie-talkie radios are useful for crowd control, car parking supervision, dealing with any emergency, and for general event management.
We can supply our walkie-talkies for your firework night with earpiece/microphones to ensure that important radio messages are not missed, spare battery packs to ensure that you don't run out of power at a crucial moment, and leather cases with carry straps enabling the radios to be carried more easily.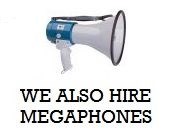 As well as hiring walkie-talkies and their accessories, we also have megaphones for hire.
These are often required for general crowd control, and often as part of a firework display's safety plan, in case there is a need to tell the onlookers to move back or clear an area etc.
Contact Us For A Walkie Talkie Hire Quote
If you need walkie-talkies and/or megaphones for your firework display - whether it's a small community event or a larger one, please contact us - we can help.
Call us now on 020 7328 9792 to get a quote.
OR CLICK HERE TO GET AN INSTANT ON-SCREEN OR EMAILED QUOTATION 24 HOURS A DAY
---