Walkie Talkie Hire on Vacation
HIRE WALKIE TALKIES FROM ONLY £9 + VAT PER WEEK
Hiring Walkie Talkies for your British / London / European Vacation / Holiday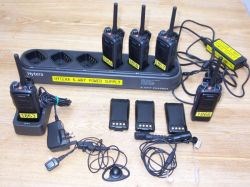 The two-way radios that you may already have back in the USA are not legal to use in Europe or the United Kingdom. American and Canadian FRS and GMRS walkie-talkies are illegal to use in the UK and in Europe.
Also, your U.S.A. radio chargers may need 120v AC power, and in Europe you will only find 240v power outlets.
Why not avoid worries about breaking the law while on your European vacation and rent some walkie-talkie radios from us? By renting "British" walkie-talkie radios, you also know that you will have no problem with voltage and wall outlets (sockets).
A pair of our UK and Europe-legal walkie-talkie radios will only cost you £18 + VAT (£21.600) per week to hire out for a week.
Call us now on 020 7328 9792 to arrange your vacation walkie-talkie hire.
If calling from outside the U.K, please call +44 20 7328 9792
We can even have them delivered to a hotel or holiday apartment.
---