Kirisun Analogue UHF Hire Walkie Talkie Radio
RENT OUR KIRISUN UHF WALKIE TALKIES FROM ONLY £7 + VAT PER WEEK
Kirisun PT4200 UHF 4 watt Hire Walkie Talkie Radio - Features
Size: 20 cms high (including antenna) x 6 cms wide x 4 cms thick
Weight: 215g
Channels: 16
Battery: Each walkie-talkie comes with a rechargeable battery pack that typically gives 10-20 hours of usage (battery life depends on actual time spent talking). We have spare battery packs available for hire as well for those that need continuous availability of each hired radio.
Chargers: The hired radios come with compact 6-way chargers (see photo), and we also have single chargers available if needed. Chargers are included in the hire price of our radios.
Please note that you can hire as many or as few walkie-talkie radios as you need - they don't come in sets of six!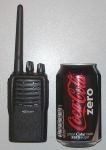 Range: Max around 2 miles in clear, open country. Less amongst or inside buildings. These are the most powerful handheld walkie-talkies available, and the best for indoor and outdoor use.

Belt Clip: The radios all have a belt-clip with strong spring-loaded fastener to attach the radio to your belt.
Accessory socket for earpiece / microphone, headset etc (available to hire if needed, but not included in the basic hire cost)
Licencing: Uses standard UHF Ofcom-licensed hire frequencies - you use our business radios supplier's licence, so there is nothing for you to do regarding licencing.
(however, if you have your own Ofcom frequency and wish us to program our walkie-talkies to use that instead, we can do this for a small fee)
Functionally equivalent in range and quality to UHF walkie-talkie radios made by Motorola, Icom, Goodmans, Yaesu, Kenwood, Binatone, Entel, Eurowave, Icom, Goodmans ,Maxon, Audiovox, Maycom, Multicom, Alinco, GP300, GP320, GP340, GP344, Panasonic, Midland etc
We also have some Kirisun VHF walkie-talkies for hire.
We also have some digital Hytera walkie-talkies for hire.

CLICK ON PRINTER OR HERE TO VIEW PRINTABLE INFORMATION SHEET FOR THIS WALKIE-TALKIE RADIO
A full range of accessories is available to hire with the walkie-talkies - including earpiece/microphones, speaker/mics, headsets, leather cases with neck straps, spare battery packs etc - click on images below for details.
* price per radio is dependent on quantity of walkie-talkies hired, with cheaper per-radio costs the more you hire.
---