Hytera Digital Walkie-Talkies For Hire
Digital Walkie Talkie Radios For Rent - Hytera PD705
RENT OUR HYTERA DIGITAL WALKIE TALKIES FROM ONLY £7 + VAT PER WEEK
(PRICE DEPENDS ON QUANTITY OF RADIOS HIRED - CLICK FOR FULL PRICE LIST)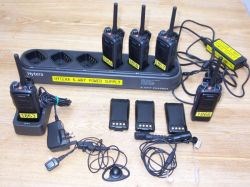 We have hundreds of top-quality Hytera PD705 digital UHF walkie-talkie radios available for rental.
These are the best general-purpose walkie-talkies in our "hire fleet". 
Size: 125mm high (including antenna) x 60mm wide x 50mm thick
Weight: 335g
Channels: 16, our digital walkie-talkie radios usually have 12 set for walkie-to-walkie use, with 4 reserved for use with our repeaters
Battery: Each digital walkie-talkie comes with a rechargeable 2000mAh battery, which typically gives 10-20 hours of usage (the battery life depends how much actual transmitting each radio actually does). We have extra batteries available for hire as well, so that hirers can keep their hired walkies in constant use.
Chargers: The hired radios come with six-slot chargers (see photo), and we also have single chargers available if needed. Chargers are always included in the rental price of our walkie-talkies, customers don't need to ask for them specifically.

You can hire as many or as few walkie-talkie radios as you need - they don't come in sets of six!
Range: Max around 2 to 3 miles in clear, open country. The range inside or among buildings will be a lot lower. These are the most powerful handheld walkie-talkies available, and the best for indoor and outdoor use.

Belt Clip: Our Hytera digital two-way radios all have a belt-clip with strong spring-loaded fastener to attach the radio to your belt.
Accessory socket: for earpiece / microphones, headsets, speaker/microphones etc (these items are all available to hire if needed, but are not included in the basic hire cost)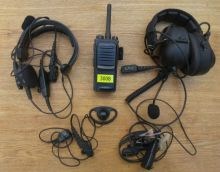 Licencing: Our digital walkie-talkie radios use the standard UHF Ofcom-licensed "hire company" frequencies. We are licenced to rent two-way radios using these frequencies so customers do not have to worry about licencing at all.
These digital radios offer digitally-enhanced improved sound quality and the best range and signal penetration inside buildings.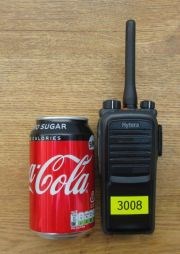 The Hytera PD705 digital radio is a very robust, top-quality walkie-talkie, and the Hytera brand name is second-to-none in the radio industry.
Ask us if you would prefer to hire our digital radios to our standard analogue walkie-talkies.
CLICK HERE FOR OUR DIGITAL WALKIE-TALKIE RADIO HIRE PRICE LIST - PRINTER-FRIENDLY (PDF)
CLICK HERE TO VIEW PRINTABLE INFORMATION SHEET FOR OUR HYTERA DIGITAL WALKIE-TALKIE RADIOS
---