Walkie Talkie Hire For Film, Television & Video Production
WALKIE TALKIES FOR FILM, TELEVISION & VIDEO PRODUCTION
We specialise in providing walkie-talkie radios and associated accessories for use on film, TV and video sets.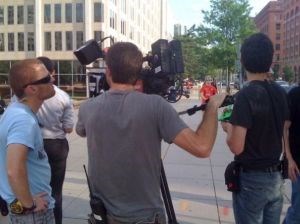 Even a small film production can benefit from using walkie-talkie radio communications.
The ability to communicate by radio with key people, anywhere on your location saves massive amounts of wasted time!
We've hired walkies to many different film and TV production companies.
Walkie Talkies on a Film Location
Professional full power digital walkie-talkie radios available
Radio Features:
16 channels - allowing different groups of users a channel each if needed (cameras, cast, etc)
Powerful - our walkies use the maximum power available (4 watts UHF) for handheld radios
Dedicated radio equipment hire company channels - not used by the general public, so no risk of interference from other users
Comparable to and compatible with Motorola GP320, GP340, GP344 etc
Dead simple to use - just switch on, choose your channel, and you are ready to go - no need to waste much time showing crew how the radios work
Compact 6-slot chargers smaller than a sheet of A4 paper for ease of charging and portability
Full range of useful accessories available to hire - including earpieces, headsets, speaker/mics, leather cases with neck straps, spare batteries, etc etc
Radios uniquely numbered making it easy to keep track of who has which radio
Strong metal flight cases available to keep the hired radios safe while being transported around
We think our radios and hire rates compare favourably with Wavevend, Audiolink etc.
CLICK HERE TO GET AN INSTANT ONLINE QUOTE FOR YOUR FILM SET RADIO HIRE NEEDS
We have provided walkie talkies radios to many film and TV companies for over 15 years.
---