Hire Two Way Radios For Car Road Trips and Convoys
Rent Walkie Talkies and Vehicle Radios For Road Trips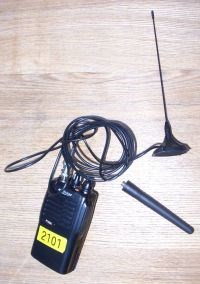 We often hire out walkie-talkie radios and our more powerful vehicle radios to organisations and groups of friends who are going on a road trip in their cars.
Various car owners clubs hire from us for their road trips around the UK and Europe. 
We hire our vehicle radios annually to the organisers of the London Taxi Driver's "Magical Taxi Tour" taking seriously ill children on a weekend trip to Disneyland Paris in a massive road convoy with police escorts (using our radios!).
Radios Available Suitable For Vehicle Use
Our standard walkie-talkie radios work pretty well in cars and are enough for a lot of customers.
However, in moving vehicles, it is possible to get "out of range" of walkie-talkies pretty quickly if one car stops or takes a wrong turn.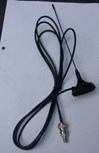 We also have mag-mount antennas which can be attached to our walkie-talkies and then stuck to the roof of the car.
By positioning an aerial outside of the enclosed "metal and glass box" of the car body, this improves the signal range considerably.
These aerials can be used with both our walkie-talkies and are also supplied as standard when you hire our powerful vehicle radios.
For those vehicles that do not have a steel body that the magnetic aerials can stick to, we also have some aerials with strong spring-clips as well.
25 Watt Vehicle Radios with Magnetic Mount Antennas For Hire
Our best radios in terms of range for vehicle use are our 25 watt vehicle radios. These simply plug in to the car's cigarette lighter socket, drawing power from the vehicle's electrical system and so can be a lot more powerful than the smaller handheld battery-powered walkie-talkies. 
These come with a mag-mount aerial that sticks to the metal car roof or other part of the bodywork. The aerial lead is run in through a car window to the actual radio unit.
These radios will communicate with our walkie-talkies so hirers can use a mixture of both types.
The radios look a bit like smallish "CB" type radios.
We have 24 to 12 volt converters for owners of coaches and larger trucks that have 24 volt electrics too.
SIM Card Network Walkie-Talkies For Car Convoys
Provided that your car journey will be in areas with a reliable mobile phone signal, you could also use our SIM-card walkie-talkies, which would get rid of worries about range.
Ask Us For Advice On Your Road Trip Radio Rental Needs
We have hired our radios in various combinations to car clubs, charity trip organisers, tour groups and many others. Feel free to call us or email us to let us know what you are planning and what you need in terms of radio hire.
The Legality Of Using Two Way Radios Whilst Driving (Walkie Talkies or Vehicle Radios)
The 2003 UK law that made the use of mobile phones illegal for drivers, specifically excludes two-way radios, the use of which is not a specific offence.
They had to make the law like this, otherwise the police themselves, as well as the other emergency services and taxi drivers etc would be breaking the law all the time.
LINK TO OFFICIAL UK POLICE WEB SITE DISCUSSING USE OF TWO WAY RADIOS WHILE DRIVING
THE UK LETTER OF THE LAW REGARDING USE OF MOBILE PHONES AND RADIOS WHILE DRIVING
---