25% Charity / Student Discount on Radio Hire
DISCOUNT WALKIE TALKIE HIRE FOR CHARITY & STUDENT EVENTS
FUNDRAISERS, FETES, SPORTS EVENTS, ETC
25% Discount on Walkie Talkie Radio Rental for UK Charities and Student Events
If you are organising an event for a charity, and you need walkie-talkies, we can help. We understand that charities need to watch their costs, so we can offer a 25% discount on our standard walkie-talkie radio hire rates to all UK registered charities, and alsl for hires by students, or student organisations.
When calling or emailing us to book your walkie-talkie hire, or when calling for a quotation, please mention that you are calling from a charity or student organisation to get the discount.
You can also get a quote on-screen and by email - if you tick the "charity" box and enter your charity number (optional - we'll trust you on this!), the web site will work out the price with the charity discount applied. Students also tick same box to show the discounted price. Note that the "student discount" only applies to actual student organised and funded event hires, and not to such things as conferences held at universities or university open days etc.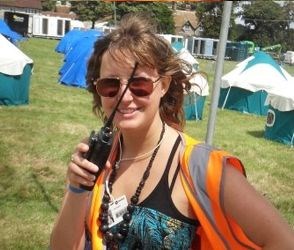 Whatever type of event you are organising, we can provide professional walkie-talkie radios, base station radios, mobile vehicle radios, repeaters and a full range of accessories including earpiece / microphones, headsets, spare batteries and leather carry cases.
We have several years of experience in hiring suitable two-way radio equipment to the organisers of many charitable events and functions, including community fetes, sponsored sporting and other events, organisers of scout and girl guide events, sea cadets and other activity trip organisers for children and young people, church and other religious events, voluntary work events and many more.
We have hired walkie-talkie radios to Action For Children, Cancer Research, Guide Dogs For The Blind, Oxfam, Relay For Life, Amnesty International, Sense, Anthony Nolan, Age Concern, Avon Wildlife Trust, Alzheimers Society, Kent Wildlife Trust, Scouts and Guides and many more. We can help you by providing radio equipment for your charity event.
Professional Quality Walkie Talkie Radio Equipment For Hire
For most outdoor events, our powerful 4 watt 16 channel UHF walkie-talkies will suffice - whether you need 6, 60 or 600 radios.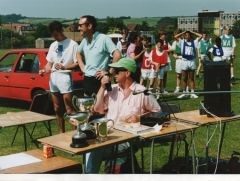 The sixteen channels available on our walkie-talkies allow different channels to be allocated for different responsibilities within your event, such as security, emergency / first aid, car parking, general stewarding and safety, entertainment and back-stage etc. This spreads the communication "load" out across several channels, allowing important messages to be heard by only their intended recipients.
Our walkie-talkies are robust and extremely simple to use - just switch on and adjust the volume, click round o the channel to be used, and you are ready to go.
Base Station Radios & Radio Repeaters For Hire
For some larger event sites and locations, event organisers might require one or more of our VHF and UHF radio repeaters to increase the area covered by a group of walkie-talkie radios. We can also provide more powerful "base station" radios for use in your site office or event control point that will ensure that radio messages from the event management are definitely clearly received all over your event.
We can also supply 25 watt powerful vehicle radios which do not require any installation in the vehicle - simply plug into the cigarette lighter socket, stick the magnetic-mount aerial on the roof and they are ready to go. These radios have a longer range than walkie-talkies and can be useful for mobile security patrols, medical staff and on-site delivery vehicles. They will also communicate with our walkie-talkies.
CLICK HERE for details on our base station / mobile radios, and CLICK HERE for more information on our radio repeaters.
Audio Accessories for Walkie-Talkies
We can provide a full range of audio accessories to go with our walkie-talkie radio range. We do standard "D-type" earpiece / microphones, lapel speaker/mics ("Parrots") as well as "Madonna" style headsets and fully enclosed "aircraft" style headsets. CLICK HERE for more details on our range of accessories. The use of earpieces and headsets allows your stewards and other event staff to hear important radio messages even in noisy environments.
Walkie-Talkie Radio Chargers and Spare Batteries
We know how important reliable communications are to successful event management. Our hire price includes enough "charging slots" for the number of radios hired. In practice this usually means that we will provide our six-slot multi-chargers. These are among the lightest and smallest 6-way chargers on the market - taking up slightly les "footprint" than a sheet of A4 paper - useful when you have to find space in a crowded site office for several charger units.
We can also provide spare rechargeable battery packs for our radios for a small extra fee. With some extra batteries, you can leave the spare batteries on the chargers, and then quickly swap the fully charged ones for any batteries that run out in use. Our rechargeable battery packs typically last 15 - 25 hours, depending on how much actual transmitting is done.
CLICK HERE for details of the full range of radio equipment and accessories available to rent from us.
---