Ex-hire Radios For Sale
Set of Six Kirisun PT4200 walkie-talkies For Sale With Six Slot Charger For £395 + VAT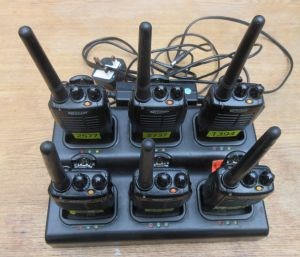 We are selling off some of our older Kirisun PT4200 hire radios.
The PT4200 is a professional-quality 4 watt UHF radio.
It is very simple to operate, with an on/off-volume control knob and a rotary "channel selector" knob with 16 channels available.
We are offering a set of six, fully functional PT4200 UHF walkie-talkie radios, with a six slot multi-charger unit and mains power supply.
Price is £395 + VAT.
While we cannot offer a full "new product" level of guarantee, we will replace any of these radios if they stop working in three months from purchase.
They are very reliable and simple-to-use walkie-talkies.
We will test each of their batteries before offering a set for sale, and only offer for sale battery packs in good condition.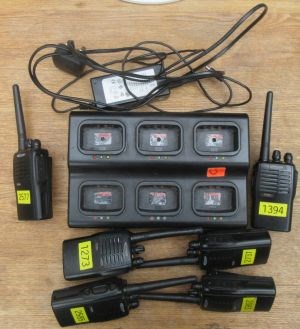 We also offer a full range of accessories and parts for them. 
We sell new earpiece/microphones in various styles.
We can also supply new batteries, and also spare "small parts" such as aerials and belt clips.
Legal use of these walkie-talkies in the UK will require a basic licence from Ofcom. This "Simple UK" licence costs £75 and is valid for five years. You only need one licence per organisation, no matter how many radios you buy and use.
---