Two Way Radio Hire - Delivery Options
Need To Hire Two-Way Radios - How We Can Deliver Them To You
Where We Are Based
Our office is in Kilburn, London NW6.
Some of our customers come to collect their hired two-way radios in person, or else they send a colleague or their own courier to collect the radio equipment from us.
Our office address is:
Amherst Two Way Radio Centre
70 Kingsgate Road
Kilburn
London NW6 4TE
LINK TO PDF MAP AND DIRECTIONS TO AMHERST TWO-WAY RADIO CENTRE
How We Can Deliver Hired Two-Way Radios
Next Day Delivery Via Parcelforce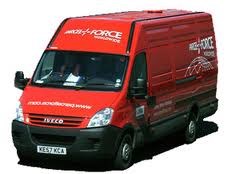 We use Parcelforce to deliver hired two-way radios to anywhere in the United Kingdom.
We can usually get around 20 two way radios into one box that costs £12 + VAT to send to most parts of Britain.
Please note that deliveries to Northern Ireland, the Isle Of Man, Isle of Wight, Scottish Highlands etc can cost more - usually around £20 + VAT per box.
So, for larger hire bookings, the delivery cost will be multiples of this basic price, so £24 + VAT for 2 boxes, £36 + VAT for 3, etc.
We can also use Parcelforce to collect our hired two-way radio equipment after customers have finished with it. Price is the same per box, plus a fee of £5 + VAT for the "away collection".
Or we can send our customers pre-paid Parcelforce box labels to print off and then drop the two-way radios to any Post Office.
This method removes the need for customers to "wait in" for Parcelforce to come to collect the radios.
Same-Day Delivery In London AREA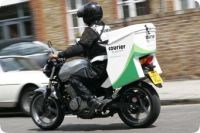 For urgent two-way radio hire requirements we can usually do same-day motor-bike or car delivery via courier in the London area.
The price for this depends on area being delivered to, and vehicle type required.
We can normally get up to 10 radios and their chargers onto a motorbike courier, which is cheaper and faster than a car. Please note that the Hytera six slot chargers are too big for delivery using a motorbike.
You can simply post, courier or bring the radios back to us when finished, or you can pay us the cost of sending another courier to collect them.
---