Looking After Hired Radios
USING & LOOKING AFTER WALKIE-TALKIES WHILST ON HIRE
The radios that you have hired cost from £100 - 205 + VAT each to replace, and they are your responsibility whilst on hire, so it makes sense to take a few sensible precautions to look after them.
Check Equipment Received Against Check List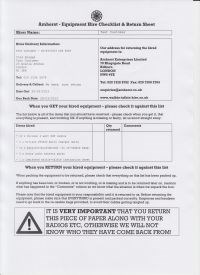 When you receive your hired radio equipment, we strongly recommend that you check through the boxes and make sure that you have everything that you ordered, that it all works, and that this is everything that you need.
If the paperwork mentions something that is not present, or if something seems faulty, or if you realise that you need something else that you forgot to ask for, you should let us know straight away.
If we have made a mistake, we will do our best to rectify it.
If you let us know, on receipt, that something has been missed off, or has arrived damaged or not working, and you let us know straight away, this protects you, because we know that the items were not lost or damaged on hire.
Don't wait until the actual start of your event to discover you need more stuff!
REMEMBER: CHECK IT WHEN YOU GET IT!
Keep the Radio Equipment Somewhere Safe
Make a secure place to keep the radios when not in use, and for the chargers, spare batteries etc.
Also please keep all of the packing boxes - we need these back when you have finished, and the little re-sealable plastic bags for the earpiece/mics and headsets.
Sign Radios In & Out To Individuals Using Numbers
All of our walkie-talkies have a label on the front with a number on. This number is also on another sticker under the battery pack, in case the label on the front gets peeled off by accident.
These numbers are unique, and are there to help hirers keep track of who has which radio. So there is NO NEED to create your own numbering system, nor to stick your own self-adhesive stickers on our radios.
Use a simple SIGN IN / OUT SHEET to keep track of who has been given each radio, especially at large events with lots of part-time and volunteer helpers. Make sure that they understand that they are responsible for returning the radio assigned to them.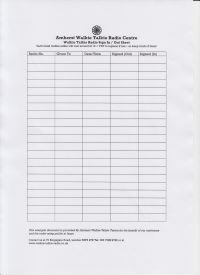 The radios cost £110 + VAT each to replace if lost or damaged.
Some event organisers collect some valuable item from each person that they give a radio to, such as a driving licence or bank card, keep this somewhere secure, and then return it when that person returns their radio!
Link to informative article on using and looking after hired walkies on film sets.
Packing Up & Returning the Radio Equipment
Make sure that you get everything back from your staff / stewards / volunteers before they leave the site. It is easy for people to forget that they have a radio or earpiece in their pockets!
Place all earpiece/mics back in the little resealable bags that they came in - this prevents all the cables from getting tangled together.
Pack all the kit back into the boxes supplied, remember ALWAYS to include the "Check List / Return Sheet" so that we know who the equipment has been returned by.
Use the Check List to make sure that all the items that you received have been included, and to ensure that you don't send us anyone else's kit by mistake - we often receive other bits of technical equipment along with our own radios, sent by mistake!
---