Vehicle or Base Station Radios
RENT VEHICLE OR "BASE STATION" RADIOS
ICOM/KIRISUN VHF OR UHF 25W MOBILE VEHICLE RADIO / BASE STATION FEATURES
We have for hire powerful yet simple-to-use vehicle radios or static "base station" radios. They will communicate with any of our hire walkie-talkie radios.

For use in a vehicle, the radio comes with a power lead that fits into the car's "cigarette lighter" socket, and a magnetic-mount antenna that simply sticks to the metal roof or other part of the car or van.
If it is to be used in a building as a "base station", it comes with a mains transformer power supply and a clip-on antenna with a 10 metre lead for attaching to a suitable location to give the best coverage.
Size: 15 cms wide x 13 cms deep x 4 cms thick
Weight: 800g (this is just the radio)
(if it is being used as a "base station" in a building, then you also need the mains power transformer, which weighs 2.8Kg)
Channels: 4 (same as first four channels on our walkie-talkies)
Range: Max around 8-10 miles in clear, open country. Less amongst or inside buildings.
Licencing: Uses standard VHF or UHF Ofcom-licensed hire frequencies - you use our licence, so nothing for you to do at all.
(however if you have your own Ofcom frequency, and wish us to program our radios to use that instead, we can do this for a small fee)
CLICK HERE TO DISPLAY / PRINT INFORMATION SHEET ABOUT THIS RADIO FOR HIRE (PDF FILE)
When hiring these radios, the hirer must specify if the radio is to be used in a vehicle, or in a fixed location (as a "base station").
Depending on the proposed use, we will supply the radios with the necessary accessories.
Vehicle Radio Hire Kit
This is the kit supplied when the our radios are hired for vehicle use.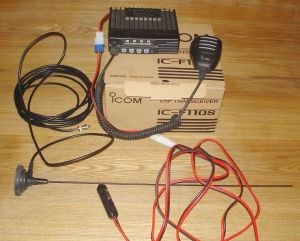 It consists of the radio itself, a "cigarette lighter" power lead to plug into the vehicle's cigarette lighter power outlet, and a "mag-mount" magnetically-attached antenna that can attach the aerial to the vehicle's roof or other bodywork.
We also have some 24 volt-to-12 volt converters to allow use in larger trucks, buses, etc. with 24 volt electrical systems.
 Base Station Radio Hire Kit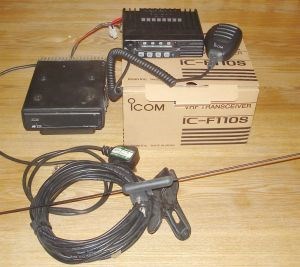 This is the kit supplied when this ICOM radio is used in a fixed location, as a "base station".
It consists of the radio, a 240v to 12v power transformer, and a 10m aerial lead with an aerial that clips to any convenient support with its large spring clip.
Click on the pictures to see a larger image..
---